Products & Solutions
Biosurfactants by Evonik
Entering a new era of surfactants 
Evonik's biosurfactants make a clean sweep – literally. They not only remove grease and dirt but are also eco-friendly and gentle on the skin. They are 100 percent biodegradable and therefore enable circular economy. They come with the lowest aquatic toxic profile available on the surfactant market and are safe for oceanic life. All our biosurfactants are produced from locally sourced (EU) bio-based raw materials without the use of tropical oils. They are produced by a safer, mild and low energy fermentation process. Our biosurfactants perform in any condition -independent from water quality.
Evonik has succeeded in developing a cost-effective biotechnological production process, so that biosurfactants are now available on a large scale for the usage in detergents and home care cleaning products. Evonik offers a range of biosurfactants for the use in cleaning product formulations and the first household cleaners containing REWOFERM® Biosurfactants are already on supermarket shelves. This new generation of biosurfactants will convince formulators and consumers that environmental compatibility and cleaning power need not be contradictory. According to currently available knowledge, REWOFERM® Biosurfactants are the most environmentally compatible surfactants on the market. It satisfies the requirements of OECD 301 F and EN ISO 11734 for rapid biodegradability under both aerobic and anaerobic conditions. The products have an outstanding Renewable Carbon Index (RCI) of 100 percent. In water toxicity tests (OECD 211 and 202) REWOFERM® biosurfactants again performed significantly better than all conventional reference surfactants products.
Biosurfactans are surface-active agents produced by the fermentation of natural feedstocks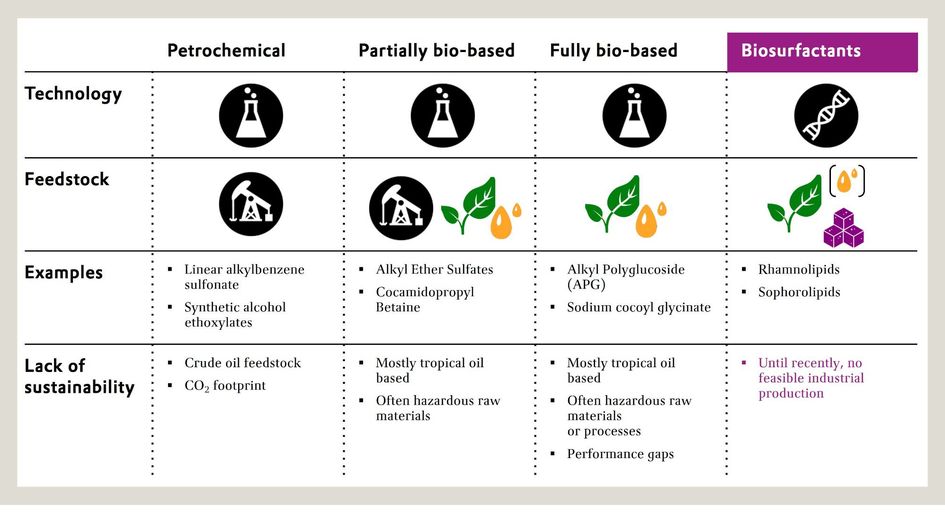 REWOFERM® RL 100
Our unique rhamnolipid REWOFERM® RL 100 is the first rhamnolipid commercially available on industrial scale. Rhamnolipids are a class of glycolipids that are produced from corn-derived sugar that is fermented by bacteria. REWOFERM® RL 100 can act as primary and secondary surfactant. Due to its unique properties in terms of performance, formulability, and sustainability it has the potential simplify complex formulations. REWOFERM® RL 100 shows synergies with enzymes and other anionic, non-ionic and amphoteric surfactants It offers excellent cleaning performance, exceptional foam forming properties and provides wetting and emulsification benefits at once. REWOFERM® RL 100 can be used in laundry detergents, hard surface cleaners, car shampoos, metal cleaners, membrane cleaning, industrial cleaners, food and beverage cleaners and general purpose cleaners. REWOFERM® RL 100 is in general suitable for ecolabel formulations.
Learn more about REWOFERM® RL 100 on intoCleaning!
REWOFERM® RL 100
Rhamnolipid biosurfactant with an excellent ecotoxicological profile
CHEMICAL DESCRIPTION
Rhamnolipid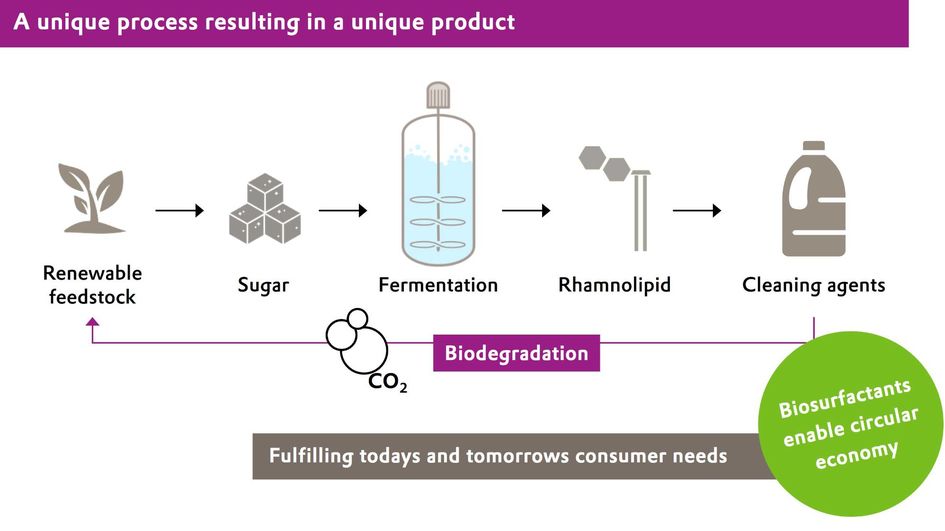 REWOFERM® SL ONE
REWOFERM® SL ONE is a novel sophorolipid-based biosurfactant that uncompromisingly satisfies all the requirements on a high-end biosurfactant: excellent cleaning performance, environmental compatibility, and production from renewable raw materials. Sophorolipids are glycolipids that are produced from sugar-beet-derived sugar and rapeseed oil through synthesis with a yeast called Candida Bombicola. Sophorolipids act as a secondary surfactant and cleaning booster. It provides excellent grease removal, is low foaming but provides foam stabilizing properties. REWOFERM SL ONE can be used in broad range of applications such as dish wash, laundry, hard surface cleaners, general purpose cleaners, car shampoos, membrane cleaning, food & beverage cleaners, metal cleaning.
Learn more about REWOFERM® SL ONE on intoCleaning!
REWOFERM® SL ONE
Novel sophorolipid biosurfactant with an excellent ecotoxicological profile
CHEMICAL DESCRIPTION
Aqueous solution of sophorolipids (lactone- and acid form)
Finally. The REWOlution!