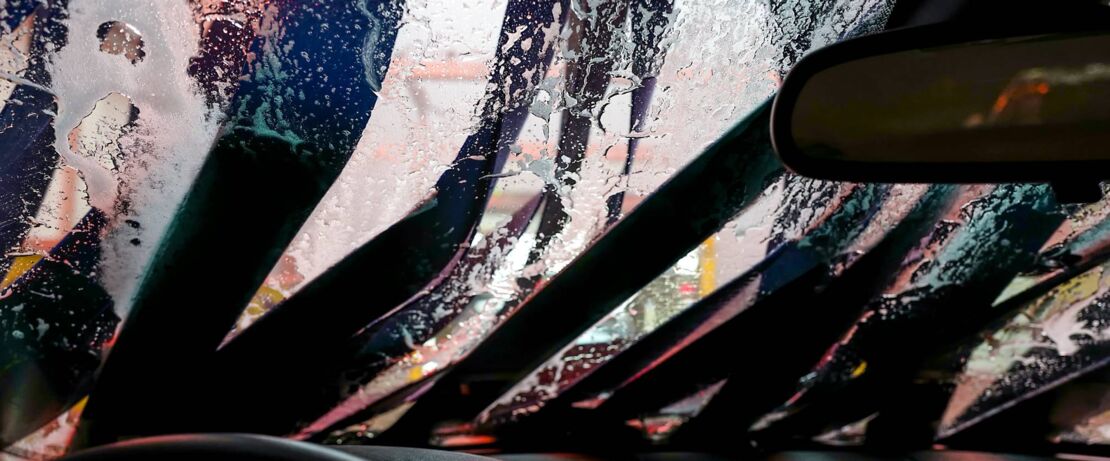 Product & Solutions
Innovative formulation that cleans and protects cars without rinsing  
Rinse-free wash and wax
Evonik develops innovative car-wash formulations, as Rinse Free Wash & Wax spray cleaners made with their popular CARSPRAY® products for the car wash and car care products markets, to save water and raw materials.
Most car owners like their cars clean. That's why driving to the car wash or getting out the garden hose every few weeks has become a routine for many of them. But what about the idea of or need for a waterless car wash, in a pinch?
That is why Evonik is now tackling how to clean cars with little water. The solution comes in a spray bottle and fulfills an ongoing need in the car care products segment. With its prototype "Rinse-Free Wash & Wax", Evonik has developed a solution that significantly reduces water consumption in car cleaning, while leaving vehicles with undeniable shine and protection! It is a ready-to-use final dilution composed of specialty emulsifiers, surfactants, and uniquely modified silicones. You only need a spray bottle and microfiber towels for a quick car care solution that cleans to protect a car's surface - in one step.
The prototype contains five Evonik products: special emulsifiers, surfactants and organo-modified silicones. The product can be formulated easily as a concentrate, then dilute as a ready-to-use, and easy to apply with a spray bottle, spray on and wiped off, rinse-free, with a microfiber cloth. The substance cleans and protects both interior and exterior automotive surfaces in a single step. It works best on moderately soiled hard surfaces such as clear coat, paint, glass, metal, plastic, vinyl, and and soft surfaces leather.
"Our formulation is very efficient. It saves water and raw materials and keeps waste to a minimum; this makes it extremely cost-efficient and environmentally friendly," Deborah Anderson, Vice President of the Household Care Business Line says. "It is suitable for both professional and consumer application since there is no wastewater runoff; these products are ideal for car dealerships, garages, and driveways," she explains.
The rinse-free wash and wax formulations can be formulated with highly recommended CARSPRAY® 300, CARSPRAY® 400 or CARSPRAY® 800 and organomodified siloxanes. To illustrate the easy, clean result this formulation can provide, here is a waterless wash for vehicle care Guideline Formulation used with a CARSPRAYTM sample:
Guideline Formulation

Manufacturing Instuctions:
Create the microemulsion first by adding the first five ingredients: CARSPRAY® 800, TEGOSOFT® OP, EB, TEGOTENS® EC11 and water, to a mixing vessel during constant stirring.
Next, add TEGO® Polish Additiv Q70 and TEGOPREN® 5840 and stir it for another 5 minutes. To make the ready-to-use final dilution, add the rest of the water during mild stirring.
| | | |
| --- | --- | --- |
| | | |
| | MDEA-based Ester Quat: Emulsifier | |
| | Ethyl Hexyl Palmitate: Ester Oil | |
| | End-capped Fatty Alcohol Ethoxlyate: Co-emulsifier | |
| | Ethylene Glycol Butyl Ether: Solvent | |
| | Solvent, preferably DI, Distilled, or Reverse Osmosis | |
| | High MW Dual Silicone Quat for protection and gloss | |
| | Super-Spreading Organo-modified Silicone | |
| | Solvent, preferably DI, Distilled, or Reverse Osmosis | |
Before using the Rinse-Free Wash & Wax, make sure that the car surface is not hot and avoid working under direct sun. Prewash the car surface if it is heavily soiled and always use a clean part of a microfiber towel* to prevent scratches.
Spray the Rinse-Free Wash & Wax ready-to-use formula on a small section of the car (around 2 ft x 2 ft) at a time.
Use a clean part of a microfiber towel to wipe off the excess liquid gently.
Repeat the above procedures on the rest of the car, working on one section at a time.
 The basic formulation is crystal clear, meaning formulators can use additional substances such as dyes, fragrance, and other additives to adapt their products to the industry's and consumers' demands and requirements.
Customers in North America are already successfully using the Evonik formulation as a basis for their products, and the first consumer articles are already available from specialist dealers and supermarkets.
Reach out to our Evonik experts for more information or formulation guidance, and when ready to learn more about our sustainable specialties, an Evonik Cleaning Solutions representative can dispatch samples to you, today!
*For further eco-consciousness, used towels can be laundered for reuse. This way the contaminants will not enter directly to storm sewers but go into waste-water treatment facilities.